Beginning January 16, 2024, publishers and developers using Google publisher products will be required to use a Google certified Consent Management Platform (CMP) that integrates with the Transparency and Consent Framework (TCF) when serving ads to the EEA and UK.
Google's new consent management requirements 
What is a Consent Management Platform 
Consent Management Platform (CMP) is a solution for web publishers to protect their users' data privacy by detecting and controlling all cookies and third-party trackers. CMPs comply with the world's significant data privacy laws, such as the EU's GDPR, CCPA, LGPD, and more.
As its name suggests, CMP manages the control of user consent on websites:
Handle privacy preferences for users: Users can accept or reject data sharing.
Block cookies: Before users agree to share their data, all cookies and other tracking methods are disabled.
Provide legally required consent notices: Inform the audience about what data is processed, which specific entities process their data, and for what purposes.
Google's new CMP requirements
In 2020, Google integrated its ad systems with IAB Europe's Transparency and Consent Framework (TCF). The framework was created to establish a consistent method for obtaining user consent regarding using their personal data following GDPR (General Data Protection Regulation), effective May 25, 2018. According to GDPR, consent obtained must be freely given, specific, informed, and unambiguous. 
Three years later, the latest version of this framework, TCF 2.2 was finalized. Google made a decision to require all its publishers to adopt the updated TCF. On May 16, 2023, Google introduced new CMP requirements for Google's publishers and developers that provide ads in the European Economic Area (EEA) and the United Kingdom (UK).     
Following that, beginning January 16, 2024, publishers will need to work with a Google-certified CMP that has integrated with the TCF when serving ads to users in the EEA or UK. The Google-certified CMP list is regularly qualified by Google. 
What does this mean for you?
This new update means publishers relying on simple methods like popups displaying Terms of Service and Privacy Policies will no longer comply with the latest CMP requirements. Instead, you must collect user consent using a Google-approved CMP when serving ads to your users. With the certified CMP, you can create and display a GDPR message to your users to gather consents required under the General Data Protection Regulation.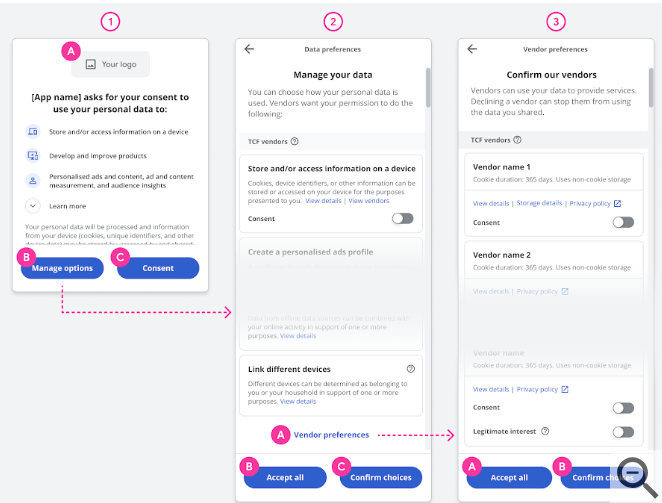 Example of GDPR message
As Google stated clearly in their announcement, if a publisher does not adopt a Google-certified CMP, only limited ads will be eligible to serve on EEA and UK traffic.
So what should you do to comply with the latest Google CMP requirement and avoid potential revenue loss: 
Publishers already working with a CMP
You should proactively check if your CMP provider is on the Google-certified CMP list. If your CMP partner is on the verified list, you can start setting up the GDPR messages:
Set up GDPR User messages within your CMP platform. 

Declare Google as an ad partner on your CMP platform. This allows Google to access the consent data collected by the CMP and make informed decisions about ad serving. 
Please note that each CMP platform has a different GDPR setup guide, so you should contact your CMP partner to get support if needed. 
Check with your Mobile Mediation Platform (AppLovin MAX, Unity LevelPlay, etc.) to ensure your current CMP is fully compatible with mediation to read the TCF String via the IAB TCF API & send data granted by string to Google.

Regularly review the CMP integration and configuration to ensure compliance with GDPR requirements and any updates to GAM.
Publishers wishing to use the Google CMP Platform
To support publishers, Google has suggested a free Google consent management platform available for anyone using Google publishing products, including AdSense, AdMob, and Ad Manager. 
Google CMP Platform supports the GDPR user consent messages available in the Privacy & messaging tab that are certified with the new TCF requirement.  
For app publishers, you can get started effortlessly with Google CMP solutions in 2 main steps: 
Configure GDPR messaging on your Google Ad Manager account     
Please refer to this official Google guide on how to set up the Google CMP platform on your GAM.   
Publishers who haven't integrated with a CMP platform yet 
If you are seeking a new CMP partner, you can consider the list of Google-certified CMPs or set up Google CMP solution for your app. The deadline for new CMP requirements is around the corner, so it's time you hurry up to start integrating with a certified CMP partner!    
Let Premium Ads help you adapt to changes
As Premium Ads is always at the forefront of embracing new transitions in the online advertising landscape, we're more than ready to adapt to Google's new CMP requirements. If you're struggling or confused with all these new CMP requirements, Premium Ads team is always here to support you. We're a Google Certified Publishing Partner with 7 years of experience in the online monetization and advertising industry.
In the meantime, we will keep you updated with all the news from Google Ads and how publishers can enjoy these changes without disrupting your ads performance. Stay tuned!