Let's agree: Displaying ads is one of the easiest ways to monetize your content, either on websites or mobile. As a publisher, you need to work with as many advertisers as possible to improve ad fill rate; this is where ad network comes into play. Let's go through everything you need about ad networks in our detailed guidelines. 
What is an ad network?
An advertising network, or ad network, is a platform that connects advertisers and publishers, or the demand side and supply side. The key function of an ad network is to gather available ad space and match them with the advertiser's needs. 
To put it simply, an ad network works as an intermediary exclusive for online advertising between publishers and advertisers. It's an integral part of the programmatic advertising ecosystem. Examples of the most popular ad networks for publishers include Google AdSense, Google AdMob, and Amazon Associates. 
=> Read more: Everything you need to know about Google AdMob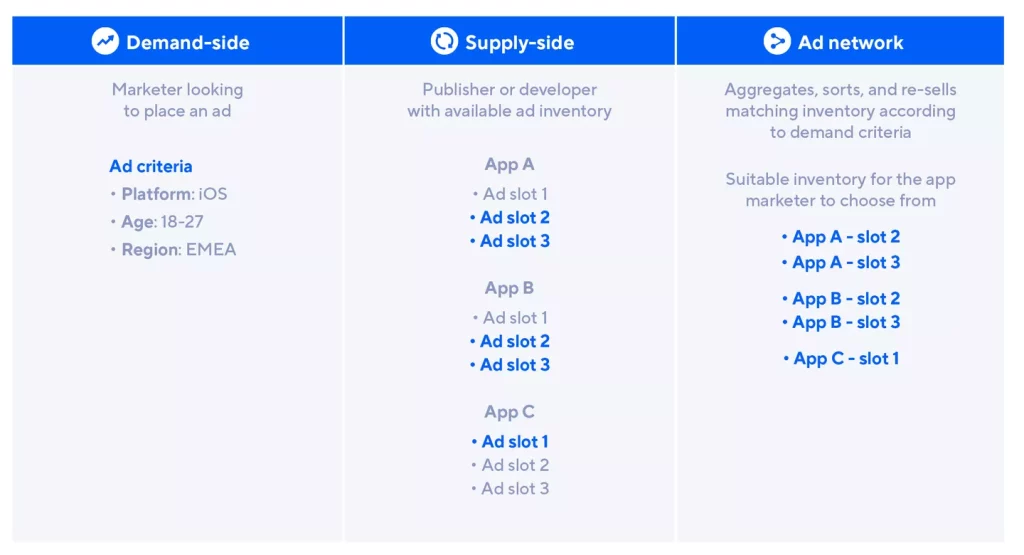 Source: Adjust 
How do ad networks work?
Ad networks are beneficial for both publishers and advertisers. It helps publishers increase fill rates by securing unsold ad space. Meanwhile, advertisers can find the ad inventory that suits their budget and target audience. Normally, the process will happen as below: 
Ad networks collect the ad inventory or impressions from publisher sites  

Based on price and audience group, ad networks sort ad inventory according to the advertiser's demand. 

Advertisers set up their ad campaigns through the ad networks of their choice (Google Ads, for example). They create ad campaigns and set the parameters for each one. They can define budget, targeting, and frequency caps.   

Ad networks study the advertiser's requirements, determine which ad inventory suits the advertiser, and bring the two together. At this point, advertisers and publishers are connected thanks to ad networks.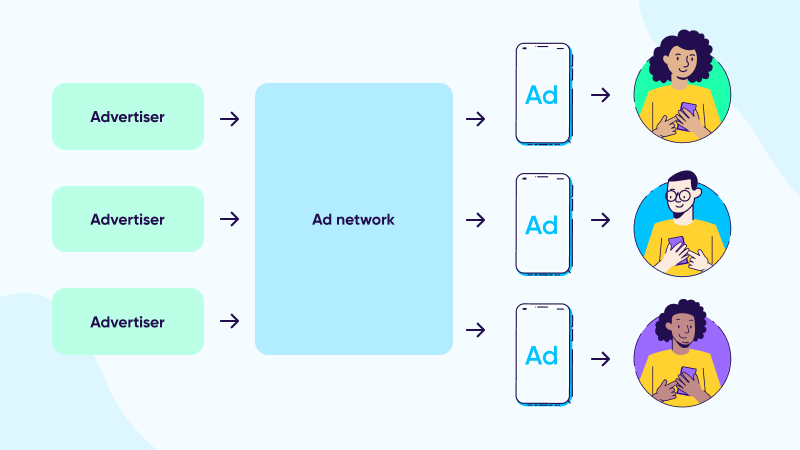 Source: AppsFlyer
Why you should use an ad network? 
Wide range of demand partners 
The range of bidding partners you can access through ad networks is countless. Besides working with popular ad networks like AdSense and AdMob, you have hundreds of third-party ad platforms that give you access to a wide selection of ad demand from popular DSPs such as Google AdX, Amazon, Xandr, Taboola, etc. Header bidding ensures you secure the highest-paying bid, so the more bidders you have, the more ad revenue you gain.         
Multiple monetization options
While pay-per-impression is still the most prominent monetization model, there're many other options available: such as pay-per-click, pay-per-view, pay-per-download, pay-per-install, and more. 
Convenience
It's easy to integrate with a third-party ad network and earn more immediately. Most ad networks will need only 24 or 48 hours to launch their services with a dedicated support team ready to help you.     
4 Main types of advertising networks
Horizontal ad network
Horizontal advertising network gains access to a vast inventory base with broader reaching impressions. Horizontal ads are highly appealing due to their ability to offer scalability, extensive reach, and multiple targeting opportunities for advertisers.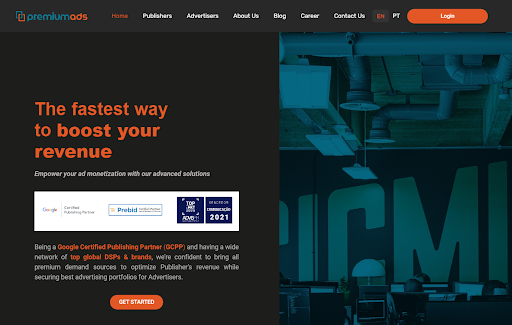 Premium Ads is a horizontal ad network 
Vertical ad network
Vertical ad network type specializes in a particular niche, such as a fashion ad network. Instead of spreading a wide net on a horizontal platform, advertisers have the opportunity to reach their target audience more directly. 
This type of ad network enhances transparency as advertisers know clearly where their ads will run. 
Premium ad network
Premium ad networks are ideal if you seek premium prices in return for exclusive access to your inventory. Such networks exclusively collaborate with top-tier publishers and maintain strict criteria when choosing their partners.
Specialized ad network
Similar to vertical advertising networks, specialized ad network types are restricted to specific ad inventory. For instance, a specialized network can be one that works with only video or mobile ad formats. 
How to choose the right ad network? 
As we've mentioned, a variety of ad network types are available, and the number of ad networks in the market is countless, making it overwhelming to choose one. Don't worry; you can always run a test with your preferred ad network for a short period (usually 2-4 weeks) and evaluate ad revenue performance before making a decision. Still, here are some factors you should take into consideration when deciding on the most suitable one: 
Ad fill rate
The ultimate purpose of working with ad networks is to multiply your ad revenue, so it's apparent that ad fill rate should be the first factor you take into consideration. 
Ad fill rate depends mainly on the performance of the ad network you're working with. As many ad networks share the same demand sources from Google AdX, the number of advertisers bidding in these ad networks is not very different. However, not all ad networks can give you a reasonable ad fill rate, given various factors involved, such as ad optimization and customized support.  
With 8+ years of experience working in the programmatic advertising industry and hundreds of publishers leveraging their ad revenue, Premium Ads can confidently offer you a satisfied ad fill rate. Contact us now, and we will take your ad revenue to the next level!
Ad network size
Ad network size is essential to determining your potential reach and ad fill rate. Isn't it kind of obvious? The ad network with 10000 advertisers on board will give you better ad performance than the one with 1000 advertisers (given that the corresponding number of active campaigns on both ad networks is the same). 
While most ad networks on the market own advertising demands from Google AdX, many still have their own demand side platforms (DSPs) to connect publishers with a larger pool of advertisers. You can easily check the ad network size by looking at their website or asking for their company pitch deck.     
Besides Google AdX, Premium Ads also partners with many top DSPs globally
Quality of ads
The ads being displayed on your site or your app will be viewed by your audience, so at some points, low-quality ads can severely damage your brand reputation. Many ad networks serve sensitive ad content that might not be suitable to display on a children's mobile app, for example. 
It's recommended that you should only work with ad networks that serve ads suitable to your content and resonate with your users. Working with low-quality ad networks that violate Google rules might even lead to your content being restricted or banned by Google.       
Ad optimization & support
Ad optimization team plays a pivotal role in leveraging your ad revenue. It's not possible to set up and run an ad campaign effectively without involving a dedicated and experienced ad op team. 
Besides optimizing your ad performance, ad optimization specialists also provide active support concerning ad management, for instance, setting up ad filters to block certain ad formats you don't want to show up on specific pages on your site.  
The golden advice here is to choose a GCPP (Google Certified Publishing Partner) to work with, as they possess proven expertise and can provide tremendous support on advertising and monetization strategy for publishers. They gain access to the world's best and most exclusive Google tools & products and customized solutions to help you achieve programmatic success. 
To be certified as a GCPP, a partner must undergo comprehensive training and critical assessments by Google. Premium Ads is proud to be the only GCPP in Brazil and one of 50 official GCPPs worldwide.   
It's time to leverage an ad network for your ad monetization strategy
I hope our article answers your questions about ad network, how it works, and some tips to help you decide the one best fits your business. 
Selecting and testing a new ad network is a daunting task, especially for someone new to the advertising space and drowning in hundreds of available ad networks. We've given you the checklist, but pure theory is never enough to gain real experience. Why don't you try Premium Ads ad network and see your ad performance before making a final decision? We're always here for you.